As our temperatures here in Wilmington swiftly move from warm to truly autumnal, we begin to mentally prepare for the holidays ahead. That may mean Halloween decorations that must be hung or thoughts about where travel plans will take us to be with friends and family. For executives at the Port City Java coffee house franchise, our thoughts about travel arrangements center mostly on the logistics for three busloads of Marines coming down from Camp Lejeune.
For the ninth year in a row, our Port City Java CEO, Steve Schnitzler, has asked local families to open each home to two Marines for Thanksgiving. As we reported back in 2018, this "Marinesgiving" program has help more than 1,100 Marines enjoy a homemade meal and the comfort of local families. Many of these volunteer families believe that this program is a way of expressing genuine appreciation for so many who are dedicating themselves to serving our country.
This recent WWAY TV segment, showed Steve still looking for a handful of New Hanover county families to volunteer, however since the broadcast aired, all Marines have been assigned to local homes for this year. We truly wish to express our genuine appreciation for the families who volunteer each year and look forward to the 10th anniversary of this event in 2020!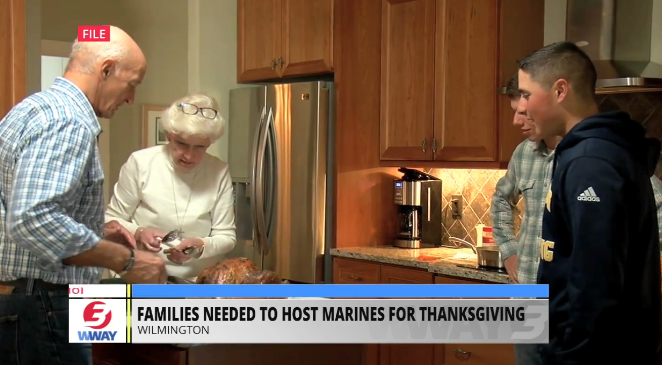 « Back to Blog