Earlier this year, we shared the details about the "Sweet Success of Limited Time Offers". We explained the three primary advantages of offering special products for a limited time only, which includes; customer experience, marketing engagement and product testing. Over the past several weeks we've determined that one special Limited Time Offer (LTO) clearly passed its product testing phase, and will soon be a permanent part of Port City Java coffeehouse menus everywhere: coconut milk.


While milk alternatives have been available at our 26 cafes for many years, we recently started to see the demand for coconut milk from our customers across the Carolinas, along with telltale signs within our restaurant niche. Our current milk alternatives, soy and almond milk, are both part of a Barista Series line specifically made for use in cafes. During our 2019 Annual Conference we announced that we would test the popularity of coconut milk this summer.


Starting early in June 2019, we began the "coconut experiment" by involving these four Port City Java cafes:
Brunswick Forest - Leland

Masonboro Loop

Market Street

Downtown Wilmington
Each coffeehouse location was provided with cases of coconut milk, with each test running two to four weeks, depending on cafe volume. Within each test cafe we added signage to make customers aware of this new alternative. All sales data was tracked using our point-of-sale systems, then cross-compared with the other milk alternatives sales trends. Upon final review this month, it was clear the coconut milk trial was a widespread success!
We're already taking steps towards implementing the Barista Series Coconut Milk throughout all Port City Java cafes later this year. We wish to thank all those who made this coconut milk trial possible and to let our customers know that when coconut milk returns as an alternative, for just a $ .60 cent up-charge, it will be a permanent part of our menu. Score another success for the power of the Limited Time Offer!
If you, or someone you know has been considering the many advantages of business ownership, but really want to have the training, on-going support, and time-tested business systems only a franchise can provide, contact the Port City Java franchise team about a new opportunity we have available in Fayetteville, NC!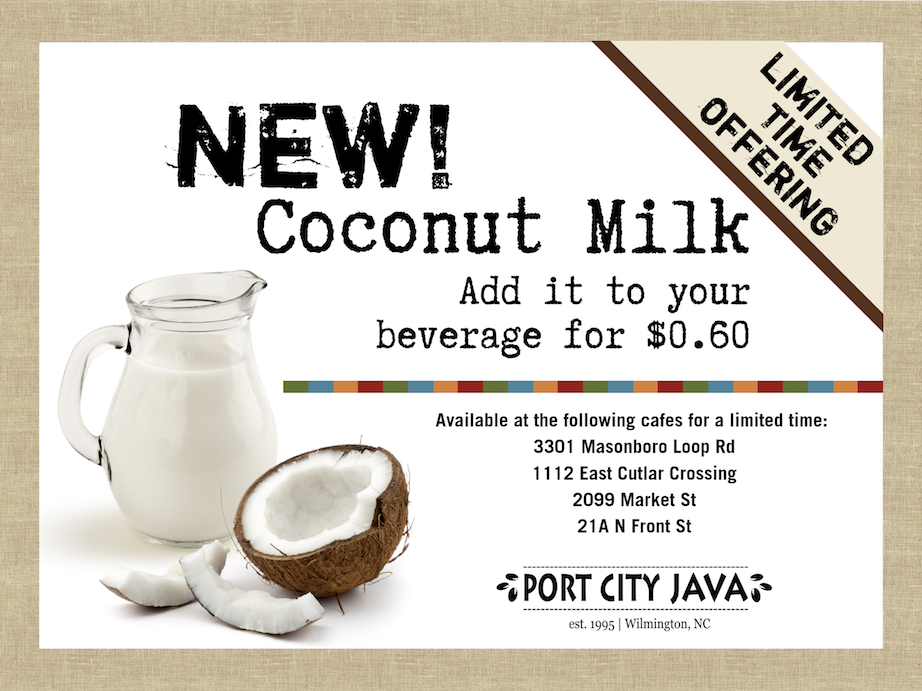 « Back to Blog