While many companies go into a business hibernation mode during the final weeks of the year, our Port City Java team is hard at work preparing for their annual conference scheduled for Saturday, January 12, 2019! For franchise companies that have been around for decades, like Port City Java, an annual conference is a chance for all franchisees to come together to learn from each other and stay up-to-date with the latest trends and technologies required to operate a successful cafe restaurant in 2019, and beyond. These mandatory meetings are not open to the public, but they are an opportunity for the Port City Java franchise team to present updates on changes coming in the future and to also hear from industry experts that can truly benefit their restaurant businesses.
This year's conference will feature two experts presenting keynote sessions to our franchisees for the very first time. We are proud to announce, today, the keynote speakers for the 2019 Port City Java Franchisee Annual Conference:
Lisa Leath, of Leath HR Group, will present a general session to our entire group on Effective Leadership. During this session, attendees will learn techniques to increase their leadership self-awareness, understand how to create a work environment that enable individuals and teams to be at their best and expand their ability to energize and motivate others.

John Formica, known as The Ex-Disney Guy, will present the final general session for the day called, If Disney Ran Your Company. Attendees will hear about John's incredible experiences and learn real best practices and proven Disney Success Strategies in an entertaining and inspiring way to help you create your own "magical" guest experience.
In addition to these two general sessions, there will be additional sessions provided by the Port City Java executives, as well as by a few key vendors that will be critical to the success of all Port City Java cafes in the new year. If new business ownership is something you are serious about for 2019, be sure to visit our new Charleston opportunities page and request our new neighborhood guide to help you consider Port City Java cafe franchises!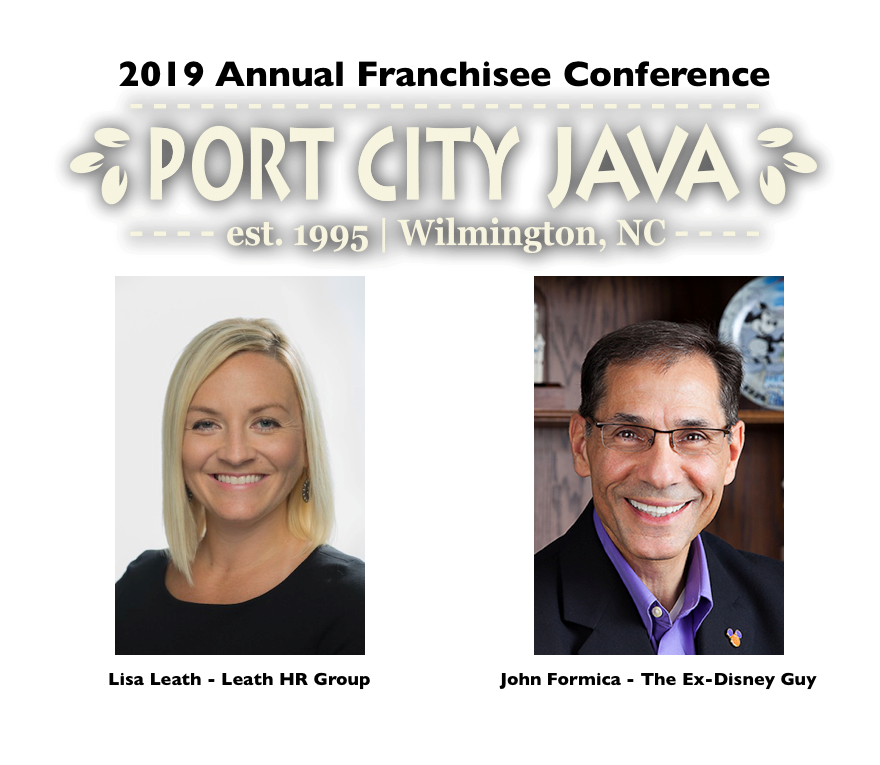 « Back to Blog