One month ago, we were preparing for our eight annual "Marinesgiving" event with dozens of families within New Hanover County. This special event was established years ago by Port City Java CEO, Steven Schnitzler, to help serve up a home cooked meal to those serving our country. In Steven's words, "For some families, it has become a tradition," Schnitzler said. "We all pay lip service to supporting troops. It can become rote. You want to thank them? Take them into your house, feed them dinner, look them in the eye, shake hands, and say thank you. "
And that is exactly what happened last month. Two busloads of Marines from the School of Infantry (SOI) at Camp Geiger arrived for din ner. The Marines were paired up and then introduced with their family for the day. Many of these local families have made a tradition of welcoming the Marines into their homes because the experience is so positive and powerful. Here are a few quotes from the local families hosting "Marinesgiving":
"Each time we get them, we are amazed at how devoted they are, and how young they are. When you look at their faces and realize the responsibility they have—it's humbling. Our family thinks it's one small thing we can do for them in return for what they do for us. And it always touches me how thankful they are." - Deborah C.
"We enjoyed the company of two of the nicest "kids". They were so polite and appreciative. Tristin and Kane were an absolute pleasure to spend the day with. We had 14 people for dinner, and they fit right in! -Margaret K.
"This was our best experience hosting Marines in the three years we've participated. Our gentlemen were Josiah and Kenny, both from Daytona Beach. They were polite, personable and appreciative and we just had the greatest time!" -Kathryn R.

Since the November 2018 event welcomed another 110 Marines into local homes, it raises our grand total to 1,148 Marines served for Thanksgiving. "Not too shabby" according to Steven Schnitzler.
As our franchise development team prepares for the New Year, we are making many improvements to our systems and targeting new markets for cafe expansion. We are currently seeking franchise partners for the Raleigh-Durham market. To learn more about this new opportunity, please watch this brief video and request our Neighborhood Guide to Raleigh!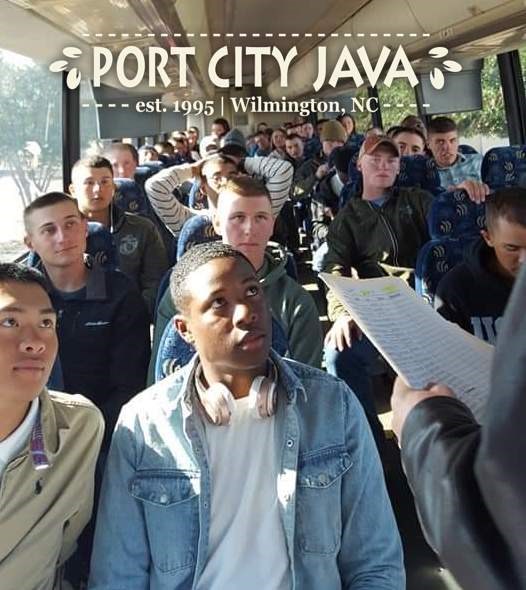 « Back to Blog