One of the competitive advantages that the Port City Java cafe franchise has over other competitors is the fact that we roast our own beans in one of two different roasting facilities. Very few restaurant opportunities incur the expense necessary or hire the experts required to operate two roasting facilities. But when you take coffee as seriously as we do, and are loved by your customers because of the amazing coffee we offer up day after day, those investments become obvious.
Recently we caught up with Port City Java's certified roaster, Kim Cruse, to ask her some questions about what it takes to go from being a certified public accountant to a certified coffee bean roaster, and asked her for some tips on brewing the perfect cup of coffee at home!
Here's our "Meet the Team" interview for December:
Q1: Please tell us about your career before getting involved with the Port City Java (PCJ) franchise!

Before working with PCJ, I worked with a pharmaceutical company in project management, assisting in generic prescription testing. Before that I worked with a certified public accounting firm, processing financial reports and preparing tax returns.

Q2: When were you hired by PCJ and for what position?

I was hired 12 years ago, in 2006, as warehouse personnel. It was then that I fell in love with the art of roasting and truly enjoyed learning as much as I could about it! I started learning the roasting procedure and soon became the sole roaster for the company.

Q3: It's rare to find a cafe or restaurant opportunity that takes their coffee so seriously that they roast their own beans - is that something that makes PCJ unique?

Absolutely! We pride ourselves on buying top quality specialty coffee beans and develop them into a beautiful cup of coffee. We "cup" all of our roasts every day to assure we are bringing out the best flavor profile possible.
Q4: Are we to understand that Port City Java has TWO separate roasting facilities? - Why is that necessary?

We roast both conventional and Fair Trade Organic coffees. We find it much easier to have one roastery dedicated to the organics, to keep organic coffee beans free from any outside contamination.
Q5: We've been told that you are a certified roaster - who does the certification and what does that mean to a PCJ coffee connoisseur?
The SCA (Specialty Coffee Association) offers classes to further your coffee education, and once you have successfully completed all of the classes associated, you can earn that certification. As a certified Roaster I have gained so much knowledge through the SCA, the Roasters Guild and a national network of coffee roasters, which equips me better to know what consumers expect in their cup of coffee.
Q6: In the past we've seen Coffee Bean Roasting Tours hosted by PCJ in Wilmington; are you involved with that free public tour?

We love educating the public about coffee and showing off our facility! We bring in a group of 6 people at a time and show them how green bean coffee comes to be the cup of coffee they appreciate drinking. We walk them through the roastery/warehouse and end with a cupping of 2 coffees to let them experience the differences in each cup. New baristas for our cafes also attend this class soon after they are hired.
Q7: In terms of roasting technologies and equipment, how does PCJ compare with other companies on the east coast?

Our roasting and warehouse staff work closely together when it comes to staying up on coffee trends, evaluating our coffees, and staying knowledgeable about coffees from all over the world. Our facility is well equipped with 2 roasters, a fractional packager, and a coffee bagger. Regarding other companies on the east coast, I don't really compare us to them but consider us all one big coffee network. The beauty of a coffee network is we all work together for the same reasons and strive to achieve the same goals - producing a great cup of coffee!
Q8: How many different types of whole bean or ground coffee can consumers buy at their local Port City Java cafe?

Currently, we offer seven single origin conventionals and four blends. Our Fair Trade Organic coffees are composed of two single origins and one blend.
Q9: What's the one mistake people should avoid when they brew fresh roasted Port City Java beans at home?

The biggest mistake that is common in home coffee brewing is making sure the coffee grind is correct for the brewing method. Also water temperature and water quality play a huge role in producing the best cup of coffee.

Our most sincere thanks to the Port City Java's certified roaster, Kim Cruse, for taking the time to explain her passion for coffee and helping us all brew a better cup of coffee - especially when using the beans she roasts for all Port City Java cafes!
If you are serious coffee fan and considering the many benefits of business ownership in the new year, please know we are actively seeking franchise partners for the Charleston, SC market! To learn more about our 23 years in the coffee business and our more than two dozen cafes across the Southeast, please visit this special page to request our free franchise information kit today!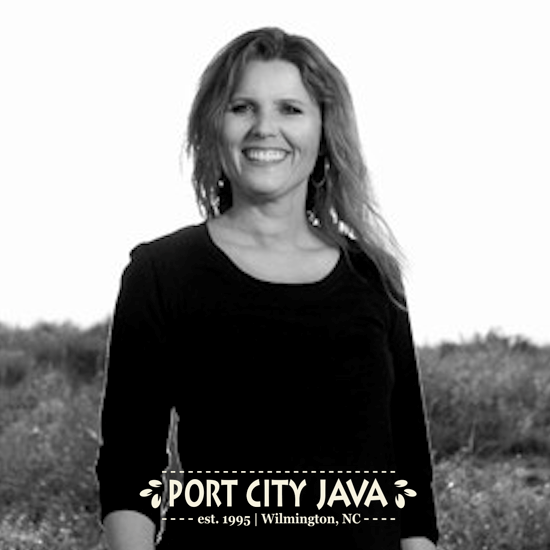 « Back to Blog