With days now dwindling to hours before Thanksgiving, so many of us are spending time worried about thawed turkeys and finding recipes for the best stuffing. Meanwhile, Port City Java CEO, Steven Schnitzler, is preparing dozens of local families to host Marines for Thanksgiving dinner. The Carolinas are a hub for military camps and it's not a surprise that holidays are always the toughest time of the year for our brave Marines to be away from their families. And while it's easy for us to say "Thanks" to those serving, it's another thing to actually serve them during the holidays.
"It's hard to believe that this will be our eighth year hosting Marines for Thanksgiving here in New Hanover County, and even more unbelievable that we've served more than 1,000 Marines since 2000 - not including those arriving this week!" said CEO Steven Schnitzler, from the headquarters of Port City Java. Steven said that while it was harder to find families this year, due to the long lasting devastation that Hurricane Florence had in our area, he was successful at getting two busloads of Marines connected with dozens of local families. He added that this year a significant number will be arriving from the School of Infantry (SOI) at Camp Geiger. Camp Geiger is a satellite facility of Camp Lejeune, about 50 miles north of the Port City.
We wish to thank the Marines for their service, the local families for opening their homes and hearts to these brave men, and to Port City Java CEO, Steven Schnitzler, for establishing this "Marinesgiving" program back in 2000. We are thankful to you all!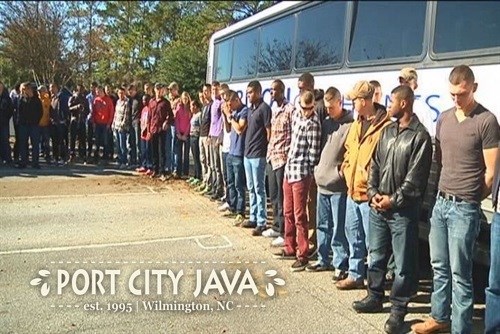 Our franchise development team is actively searching for our 2019 partners for Raleigh, NC! We are developing an important Neighborhood Guide to help share the research we've completed on this important market. To request this special research packet, please use this special page to connect with our franchise team members!
« Back to Blog