Meet Our Team will be a monthly series here on the Port City Java franchise website, featuring not only support team members but also the franchisees who operate the 27 cafe locations in the Southeast. We kick off the series with several questions for our Director of Franchise Operations, Sarah Meriam, who recently received the Certified Franchise Executive (CFE) accreditation from the International Franchise Association (IFA). She discusses this career achievement and her long history with the Port City Java coffee franchise in the interview below, from June 2018.
Q1: How long have you worked for the franchise office of Port City Java, and where did you work before joining them?

A: I have worked in the Franchise Department for Port City Java since May of 2012. I started as a Franchise Business Consultant and was promoted to Director of Franchise Operations in August of 2016. Prior to joining our Corporate Office Team, I worked as both a barista and Café Manager in our Corporate system for almost 10 years.

Q2: How does your position as Director of Franchise Operations impact both franchise candidates and active Port City Java franchisees?

A: Coming from an operational background and having that as my focus in my current position allows me to give our franchise candidates a true picture of the day to day of running a café, with real life experience to back it up. With our active franchisees, my experience and level of involvement helped build a level of trust so that our brand partners know that operational decisions made by our team are for the improvement of our overall café operations.

Q3: When working with franchise candidates, please give us a few traits that you are looking for that might help to identify a successful future brand partner.

A: I am always looking for someone that is passionate about working with our brand. To me, alignment with the values and culture that Port City Java embodies is just as important as business experience and with the competition in our industry, that passion is what can make or break a franchisee.

Q4: Given that Port City Java has been around for over 20 years, what aspect of the brand has changed most dramatically recently?
A: I have a unique perspective of this as I have been around for 16 of those over 20 years! Recently, I've seen a really positive shift in our mindset when considering change. Having a few years under our belt, it would be easy to see ourselves as experts but as a growing brand, we know that staying stagnant is not an option. We have gotten to a place where we feel we have defined the healthy core of what a Port City Java cafe is so that we can explore and try new things to adapt to an ever-changing landscape of guests.

Q5: You recently received the Certified Franchise Executive (CFE) accreditation from the International Franchise Association (IFA): How long did that take and what was that process like?

A: It took just over a year to earn my CFE and the process was amazing! The IFA itself is a great resource for all things franchising but this certification process allowed me to dig into the areas that I find most intriguing or knew the least about. The best part was getting out to conferences for extra classes and participation and networking with folks from all levels of franchising—from brands that were smaller than us to those with hundreds of units all over the world. Going through this certification with others at the same time and solidifying those connections instantly expanded my resource for knowledge.

Q6: With 27 Port City Java locations open, what do the next three to five years look like when it comes to organizational growth?
A: Since making the decision to relaunch our traditional franchise development, we have taken great strides to create a growth plan that works for us and the health of our brand. We tried—and failed—to grow beyond our reaches of support and oversight and for the sake of our future brand partners, we have decided that intentional, regional growth is the strategy we need right now. Over the next 3-5 years, we want incremental growth in our system to ensure that our brand partners are receiving the support they need to be the most successful in their market. For the first two years of development our goal is to add five units to our system, with Raleigh, NC and Charleston, SC being our initial target markets. Longer term our goal is to have 20 additional units on board by year five and continued expansion around the southeast region.

We sincerely thank Sarah for her interview time and her many years dedicated to the Port City Java cafes! Look for more "Meet our Team" features in the months to come on the Port City Java franchising blog!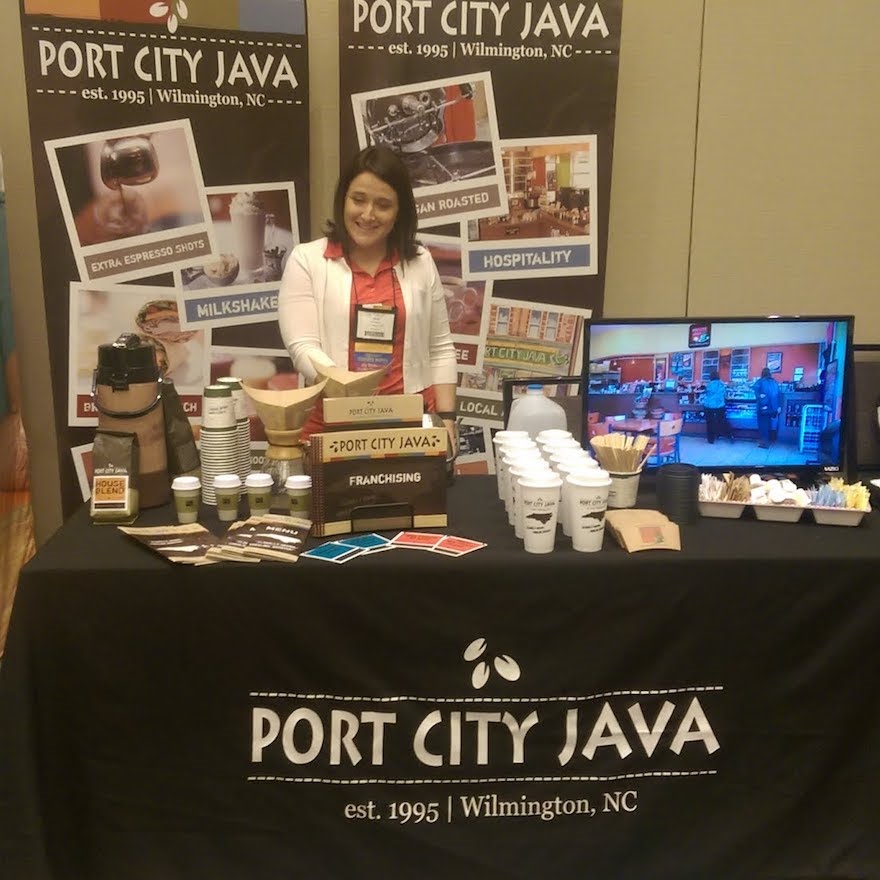 « Back to Blog